Returning Customers, SIGN IN HERE ///// New Customers, SIGN UP HERE
Chunksaah Records is distributed by Independent Label Distribution (ILD).
Please contact them at www.ildistro.com for wholesale rates.
NEW TIM BARRY LIVE RECORD
RAISING HELL & LIVING CHEAP
LIVE IN RICHMOND
We're happy to announce we'll be releasing a new live Tim Barry record on May 13th called Raising Hell & Living Cheap - Live In Richmond. This is a CD and digital download only.

Head over to TIM'S BLOG for more info!

• • • • • • • • • • • • • • • • • • • • • •
CHUNKSAAH RECORDS IS PROUD TO ANNOUNCE THIS BROMANTIC SPLIT 7" IN CELEBRATION OF OUR 20TH!
CLICK HERE TO PREORDER

Featuring one brand-spanking-new original song from both "The Bouncing Souls" and "the Menzingers" as well as each band covering the other band's song. It's a vinyl party fit for celebrating 20 years of DIY fun. We're unveiling the wax at FEST this year and both bands will be playing as well. Let's party! The official street date (for digital and retail stores) is NOVEMBER 5th.

Track Listing:
A: The Bouncing Souls
"Blackout"
"Burn After Writing"
B: The Menzingers
"The Shakes"
"Kate Is Great"

All of the songs were recorded by our very own Pete Steinkopf, here at HQ in Asbury Park, aka Little Eden Studios.

The 1st pressing is limited to 1500 copies.
-500 Classic Black "Retail Version"
-250 Yellow w/ Black Haze "Fest Version"
(only available at the Chunksaah table at The Fest flea markets)
-500 Black-n-Yellow Half-n-Half w/ Splatter "Mailorder Version"
(available through Chunksaah mailorder)
-250 Yellow w/ Black Splatter "Artist Version" only available from either of the bands
(starting with their merch tables at Fest!)




CLICK HERE TO PREORDER
• • • • • • • • • • • • • • • • • • • • • •
CHUNKSAAH 20 YEAR ANNIVERSARY RE-ISSUES!
CLICK HERE TO PREORDER MANIACAL LAUGHTER
CLICK HERE TO PREORDER THE GOOD, THE BAD, AND THE ARGLYE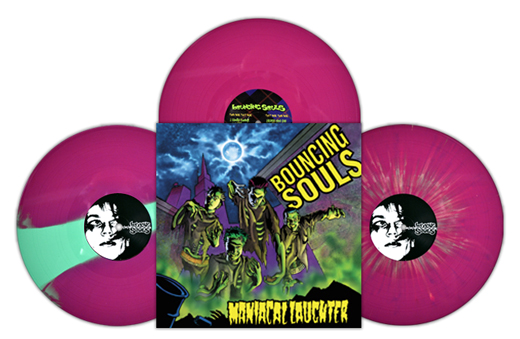 • • • • • • • • • • • • • • • • • • • • • •
TIM BARRY:
LAUREL ST. DEMO (2005)
& LIVE AT MUNFORD ELEMENTARY

2ND PRESS AVAILABLE NOW!

This is a re-issue of TIM BARRY's first solo career recordings. These are the raw sketches of songs that have become fan favorite sing-alongs, where you can first discern his now signature style. It also includes the live recording of Tim singing with the children of the Munford Elementary School in Richmond Virginia. This includes 2 WOODY GUTHRIE songs and is quite in the style and feel of Guthrie's recordings for children.

CLICK HERE TO ORDER


• • • • • • • • • • • • • • • • • • • • • •
LUTHER
HOW CAN WE REST? 7"


Philadelphia's LUTHER follow up their critically acclaimed 2012 full-length Let's Get You Somewhere Else with a Record Store Day release. This 7" is the band's second effort with producer Pete Steinkopf and features two previously unreleased songs with a drastically different approach than any of their previous work.


CLICK HERE TO ORDER
• • • • • • • • • • • • • • • • • • • • • •
DAVE HAUSE
SPRING/SUMMER TOUR
Dave Hause continues with his rigourous tour schedule, currently finishing up his stint on The Revival Tour, before heading to Europe, and then continues in the States with a string of shows with The Gasline Anthem, followed by a run with Social Distortion. CLICK HERE for a complete listing of dates.

Dave released the "Time Will Tell" 7" on Chunksaah last year, whcih featured two originals plus cover versions by THE BOUCNING SOULS and DETOURNEMENT. It is still available on both vinyl and digital download!

CLICK HERE TO ORDER "TIME WILL TELL"


• • • • • • • • • • • • • • • • • • • • • •